Scientific and Theoretical Evaluation of the Construction
Universal Criteria for Construction Works
Giken promotes the Construction Revolution to establish new standards of delivery which surpass the current conventional approach. Through consistent adherence to the "Five Construction Principles", which includes consideration of environmental protection, safety, speed, economy and aesthetics in the form of a balanced equilateral pentagon, Giken works diligently to deliver a balanced approach to projects. The balance is achieved by giving equal weight to the five principles at each stage of a project from conception through planning, design and construction phases.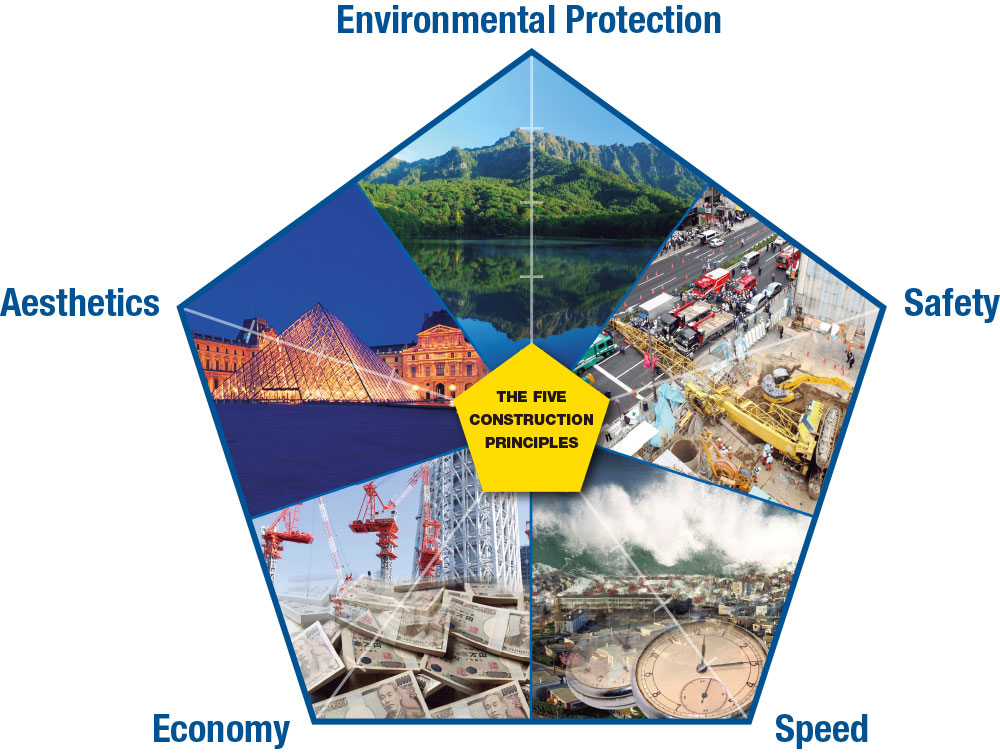 Construction work should be environmentally friendly and pollution free.
Construction work has to be carried out in safety and comfort, with a method that implements the highest safety criteria.
Construction work should be completed in the shortest possible period of time.
Construction work must be done rationally with an inventive mind to overcome all constraints at the lowest cost.
Construction work must proceed smoothly and the finished product should portray cultural and artistic flavour.
Selecting the Optimum Construction Method by Using Objective Numeric Evaluations
The Five Construction Principles can visualize essentials of each construction method by entering evaluated points of all 5 principles using a pentagonal radar chart. It is possible to use the best construction method objectively by comparing how close the pentagon is to equilateral pentagon and how large the pentagon is.

High-level Compliance with New Construction Method
The Five Construction Principles have been established so that the five elements: environmental protection, safety, speed, economy, and aesthetics, conform with a balanced regular pentagon. Although the construction costs might be cheaper, it does not mean that it is acceptable to destroy the environment, and although it might be safer, the construction period must not be too long. We must scientifically and theoretically select a construction method that satisfies the five requirements at a high level and in a well-balanced manner. The Giken Group is working on new methods development that complies with the five requirements at a high level.

The IPA (International Press-in Association) presents evaluation methods of construction works, based on the Five Construction Principles on its website.