Silent Piler is able to install most of the preformed piles available on the global market. Therefore, the Press-in Method is applicable to a wide range of wall properties and can cover all levels of retained height required in today's construction industry.
Tubular Sheet Pile
(with Interlock)
Tubular Pile
(with Closure Pile)
Combi-Gyro Wall  (Tube/Z)
Combi-Gyro Wall  (Tube/Hat)
Combi-Gyro Wall  (Tube/U)
Tubular King Pile Foundation
Weight Ratio of Pile Properties (Major Four Profiles of Steel Sheet Pile)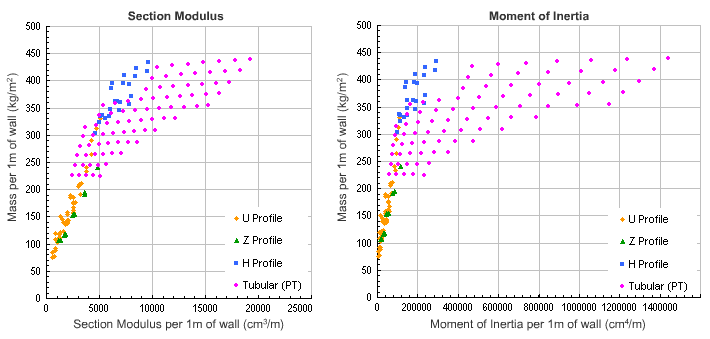 Advantages of Prefabricated Pile
Proven Quality as Prefabricated Structural Materials
Prefabricated piles are manufactured by automated production in the factory and guarantee uniform quality. In addition they can be produced beforehand and stored easily in the time when material costs are cheap. The appropriate supply of the prefabricated piles allows the completion of construction work on site at the earliest possible moment.
Wide Range of Application
Self-standing wall structures can be constructed only by installing prefabricated piles from the ground. The structure also can be increased the strength by choosing strut structure, tie-rod structure or double pile structure. Prefabricated piles are widely applicable not only to temporary structures such as coffering and retaining wall, but also to permanent structures such as river revetment, quay wall, road retaining wall, and building frame of underground facility.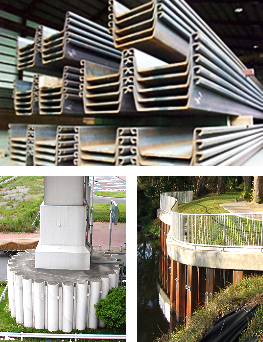 Various shapes, lengths and thicknesses of prefabricated piles contribute to economic design. The appropriate use of prefabricated piles attains overall cost saving through a shortening of the work duration and a reduction of labour. In addition some of the steel sheet piles can be used repeatedly as the steel products for temporary structures, it is possible to reduce construction cost.