The Most Effective Utilisation of Underground Space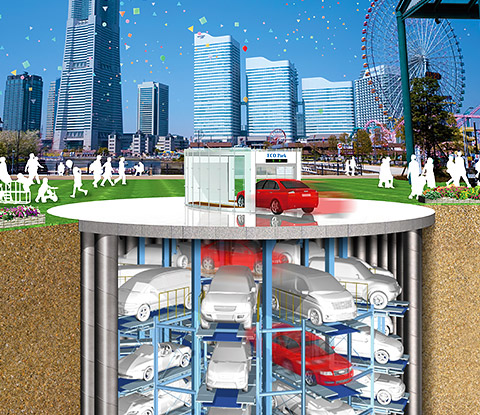 Automobiles play an important role in modern society as a mode of transport. However, they are in use just 3-5% of their life time, while they are parked in the remainder of life time. In other words, cars are parking for 23 hours a day. Considering the scarcity of available land space, if a huge land area is used only for parking purpose, it can not be considered that the land is used in optimum manner. It is ideal that car parking is located underground and above ground space is used for residential space, amenity area or natural environment.
ECO Park is a fully automatic underground parking system developed by Giken Ltd. with the design concept of "Culture Aboveground, Function Underground". One of the important features of the ECO Park is to provide parking space very close to the destination. It satisfies the concept of "door to door parking", which solves parking problems in urban areas and allows car drivers and passengers to arrive their destination faster. More importantly, it preserves the surrounding scenery by having its functional facilities located below ground. Considering the difficulties of underground construction in restricted working space, the press-in technology is the most efficient to solve these problems. The ECO Park is a good example in promoting cultures above ground by serving its function as a car park below ground.

Fusion of "Scenery" and "Door-to-Door"
1.Land-saving & Compact Design
The parking area should be located close to destinations such as stations, commercial buildings, hospitals, schools and cultural facilities. The ECO Park formed by Implant Shaft is a compact system which just requires an area of 20m x 20m. It is suitable for densely populated areas where sufficient scale of land is hardly obtained.
2.Indispensable Items for Aesthetic Urban Development
Recently people are paying attention for ecology. That is why people are paying attention for "Park and Ride" and "Car Sharing" for aesthetics urban development. The ECO Park is an underground mechanical car parking lot which requires a small space above ground just for the car entrance booth. The ECO Park does not disturb beautiful sight of the town, and the open space above ground can be utilised as gardens or parks.
3.User-friendly & High-security System
The system for loading and unloading operations is automatically controlled by the computer. There are many sensors to secure the safety in the operations. All cars are stored in the underground space, so perfect security is available against theft.
Loading operation and unloading operation are very easy for anyone. IC card issued to individual user makes smooth operation possible. Average waiting time for unloading is about 25 seconds.
The construction cost of the ECO Park is very low, because of its efficient parking mechanism and the systemised construction method. The automatic operation system requires nobody for operation. That is why manpower cost can be reduced a lot. The ECO Park has the meanings of "ecology" and "economy".
6.Simple Design for 100 Day Construction Duration
A continuous wall formed by pressed-in H piles is utilised as anti-seismic structure for the underground car park. This construction design realises amazingly fast construction with 100 day duration.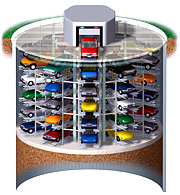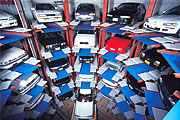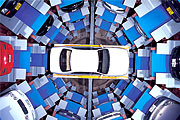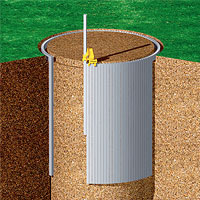 Safe and Fast Fully Automatic Parking
Parking operation of the ECO Park is simple and easy. After directing the magnetic card toward the card reader slot in front of the control panel, a driver enters the booth and park a car following the voice guidance and monitor display assistance. That is all the driver has to do.
Taking the car in the storage
Taking the car out of the storage
Systemized Construction Procedure
ECO Park originated from a novel idea refuting previous speculation on the use of underground structures. First, the interior of the continuous wall is excavated after press-in the pile materials as if drawing a circle with the dedicated silent piler. Next, parking machines are installed in the completed cylindrical underground space. Finally, an underground car parking facility with capacity of storage 50 cars is completed by setup the pre-fabricated storage/retrieval booth. This new method of construction is beyond that imaginable with the conventional construction, which requires mobilisation of large scale machines, and blocking streets for an extended period of time. Because the construction machines are developed exclusively for ECO Park by our proprietary technology, the self-contained construction method is achieved by construction of the continuous wall to setup the storage/retrieval booth, and is temporary work free.
1.Pressing-in piles to form cylindrical wall by a dedicatedly designed Silent Piler.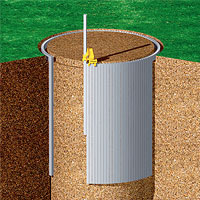 2.Excavation inside the shaft to create the underground space.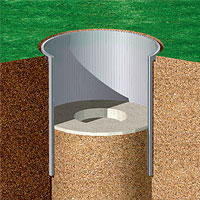 3.Installation of Mechanical parking system inside the shaft.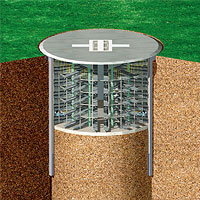 4.Installation of the prefabricated entrance booth.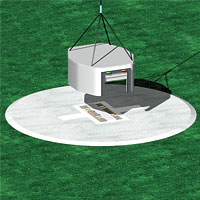 50 Cars at Just 280m2-Wide Land
It is a fully automated mechanical car parking lot which leverages underground space. It requires just 280m2wide open space for the capacity of 50 vehicles. The necessary land size is about one quarter of a typical flat self-driving type parking lot. There are three unit types, "Type-M", "Type-L" and "Type-LL", to accept different sizes of cars to be parked.
Eco-Park ® specification*1 As of Nov 2011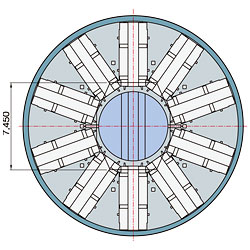 Entrance and Exit Directions

※ The directions of entry and exit can be arranged at the design stage so that flexible designs are available to respond various demands at different locations.
Cross sectional diagram (L type)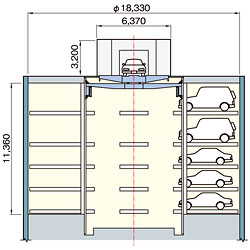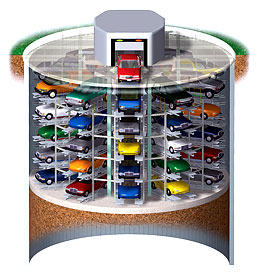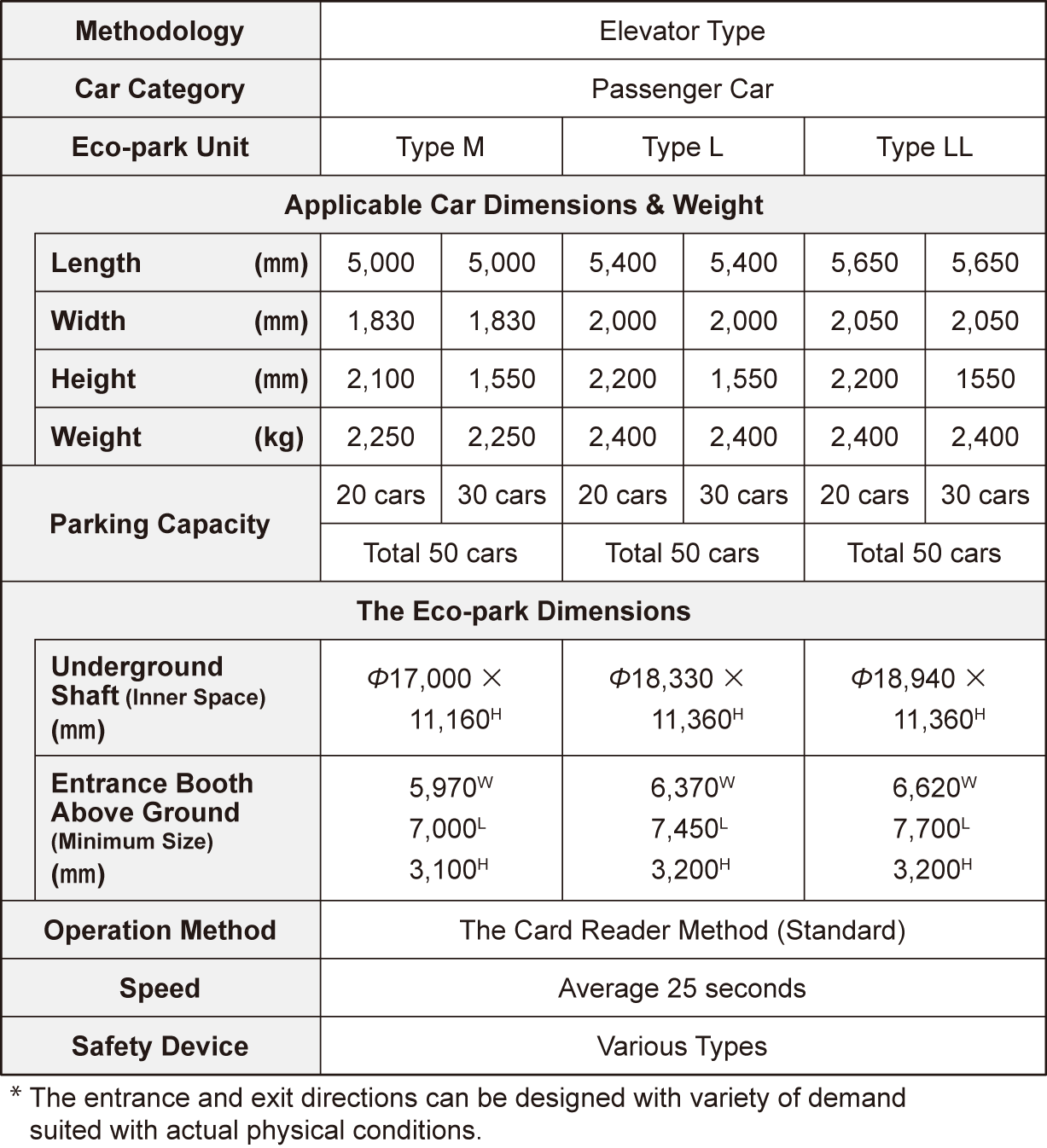 ECO Park various applications
Scenic spots and tourist attractions such as national parks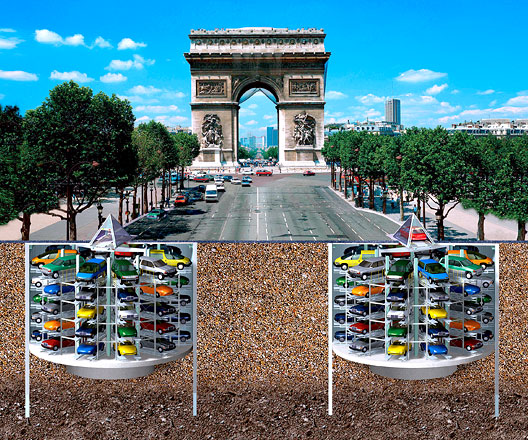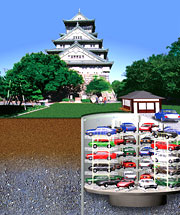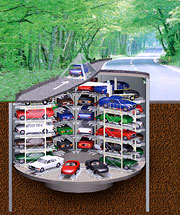 Cultural facilities such as art galleries, theme parks, and amusement parks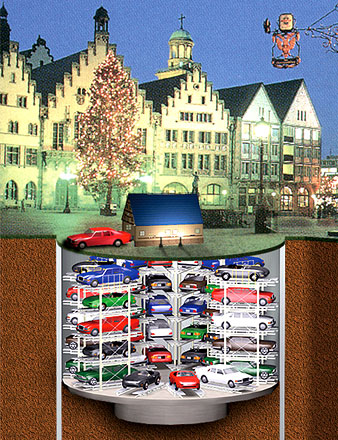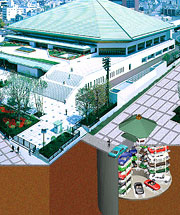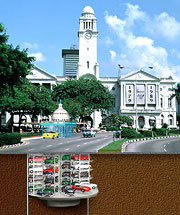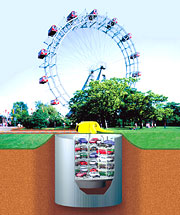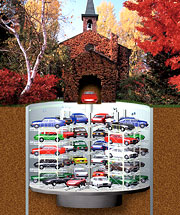 In front of train stations, airports and taxi-ports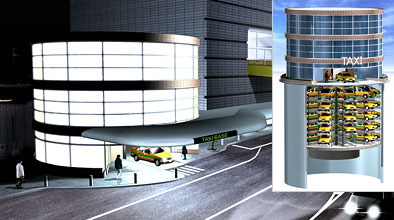 Prefectural government, government buildings such as city hall etc and hospitals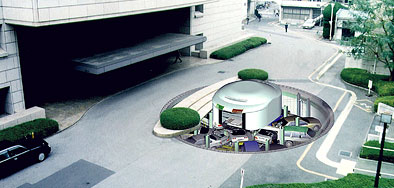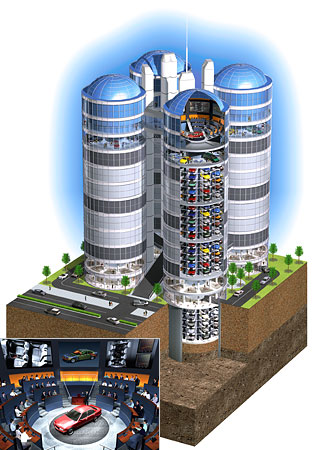 You can tour an ECO Cycle, ECO Park demonstration.
"Address: Daido Shinagawa Building 1F, 1-6-35 Konan, Minato-ku, Tokyo"
*Approximately 7 minutes walk from JR Shinagawa Station Konan Exit (East Exit)
"Booking is required for the demonstration with 1-2 week notice. "
Contact: International Business Department
Tel. 03-3528-1630 Fax 03-3527-6055
Email: project@giken.com